Tuesday, November 11, 2008
Posted by

shawn e
at 11/11/2008 08:25:00 PM
No comments: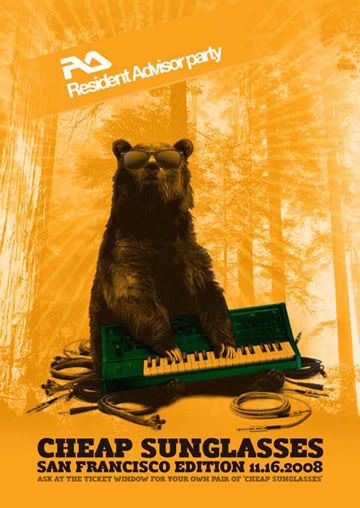 There will be some support from the local End Up residents before 12pm and after 8pm.
Also, Taimur will be headlining the End Up on Thursday night, so if you like what you hear, make sure you come check him out there for a second dose of amazing music.
We also ask that if you come before noon, please ask for your sunglasses so that the End Up knows that your there for Âme/Dixon.
RA has added one more date to our upcoming mini-tour of the United States with Dixon and Kristian from Âme. In collaboration with the Cheap Sunglasses crew, RA will be bringing the two DJs to San Francisco's famed End Up club. The Bay area club is so named because that's where you inevitably "end up" at the end of the night—or later—and that's exactly what Dixon and Kristian will be doing, as they're scheduled to play late into Saturday night in Los Angeles before heading to San Fran for this shindig which begins at noon and ends at 8 PM.
Holding down things in those early hours before the main attractions get there will be the Cheap Sunglassesguys: New York's Taimur Agha and Colorado's Crazy Larry. The duo have been throwing parties for less than a year around American electronic music festivals (WMC, DEMF, Decibel, Minitek), and this will be the first time that they've run an event without the benefit of that built-in audience. With Dixon and Kristian set to headline, we think that won't be much of a problem at all. The only question that we have? With cheap sunglasses, temporary tattoos, excuses to call off at work and earplugs all in the past, what's going to be the party favor this time?
Posted by

shawn e
at 11/11/2008 08:16:00 PM
1 comment: